portfolio
Web Design Projects, Web Usability and Search Engine Optimization. Just a few examples of web sites since 2000.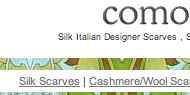 Como Milano - Silk Women Scarves
Shopify Ecommerce Integration
www.comomilano.com
Enthuse - Event & Wedding Planning
www.enthuseweddingsandevents.com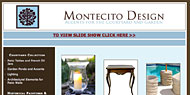 Antique Patio Statues & Accents
www.montecitodesign.com
Web development with specialization in search engine optimization and web usability, since 2000.
Web usability includes: shopping cart abandonment, higher conversion rate, improve web page lay out and multi- navigation, email marketing to increase sales to existing customers.
Search Engine Optimization SEO
Nozzie has been improving 100+ web sites with SEO, since 2000. Significant ranking has resulted in increased amount of visitors (potential clients) to the web sites. Professional web usability will convert the visitors to paying customers.
As the SEO market has become more under pressure, effective and cost-effective SEO is essential for targeted traffic to the web site.
# 1-3 Ranking in Google, Yahoo or Bing
Designer Ties
Gucci Ties
Interior Design San Diego
Interior Design Beverly Hills
Advertising Inflatables
Giant Parade Balloons
Electric Contractor San Mateo
Electrical Contractor Palo Alto
Life Coach San Diego
... and dozens of other search phrases

Start-up Ecommere Web Design
I will tell you straight to the point or your new ideas for launching a ecommerce web site will make sense, what the cost will be now and to maintain the web site in the future.
SEO - Search Engine Optimization
Having just a good-looking web site does not mean all potential clients will find the web site in all mayor search engines. Most web designers will just create a web site without implementing effective web usability and SEO, which will not give you the exposure you might need.